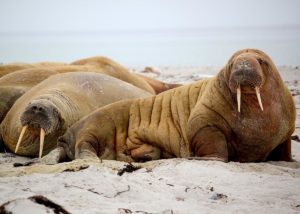 AMBIO (2012) 41:56–65
by Eddy Carmack, Thomas Homer-Dixon, et al.
It seems inevitable that the ongoing and rapid changes in the physical environment of the marine Arctic will push components of the region's existing social-ecological systems—small and large—beyond tipping points and into new regimes. Ongoing changes include warming, freshening, acidification, and alterations to food web structure. In anticipation we pose three distinct but interrelated challenges: (1) to explore existing connectivities within components of the marine system; (2) to seek indicators (if they exist) of approaching regime change through observation and modeling; and (3) to build functional resilience into existing systems through adaptation-oriented policy and to have in hand transformative options when tipping points are crossed and new development trajectories are required. Each of the above challenges is scale dependent, and each requires a much deeper understanding than we currently have of connectivity within existing systems and their response to external forcing. Here, we argue from a global perspective the need to understand the Arctic's role in an increasingly nonlinear world; then describe emerging evidence from new observations on the connectivity of processes and system components from the Canada Basin and subarctic seas surrounding northern North America; and finally posit an approach founded in "resilience thinking" to allow northern residents living in small coastal communities to participate in the observation, adaption and—if necessary—transformation of the social-ecological system with which they live.